(Okay, so technically this does not begin with X for my alphabet…. but it still counts when abbreviated to XR, right?!)…
History suggests that governments will only take action if there is intense pressure to do so (Gunningham, 2019). In 2018, the Intergovernmental Panel on Climate Change warned us that we have only 12 years to avoid a climate catastrophe – and with a lack of clear and revolutionary action from our leaders, Extinction Rebellion arrived on the scene to add pressure and raise awareness of the climate emergency we face (Gunningham, 2019).
Extinction Rebellion (XR) launched in 2018, and quickly made a name for itself through acts of non-violent civil disobedience in cities across the UK – these included the huge 'April Uprising' disruption across London, where approximately 6000 protestors blocked five major bridges and superglued themselves to trains and buildings (Gunningham, 2019). This period of protesting gained them 40,000 new members around the world, and was replicated across 80 cities worldwide (Ginanjar & Mubarrok, 2020). Since then, XR has spread across 45 countries, demanding that (1) governments tell the truth about the climate crisis, (2) they reduce greenhouse gases to net zero by 2025 and (3) they create citizen's assemblies on climate and ecological justice.
"Extinction Rebellion encourages institutional evolution in climate related global governance from the political elite to citizen assembly. What this means is that Extinction Rebellion is trying to change the traditional policy-making process to the participation of the public." – Ginanjar & Mubarrok (2020)
One of the key points seen as vital to the success of the XR's protest movement, is the so-called "3.5% rule". Research has shown that non-violent campaigns against autocratic regimes and military forces are generally successful when 3.5% of the population is mobilised in sustained protests (Chenoweth & Stephan, 2011). XR uses this research to recruit new protestors, suggesting that once this amount of people has been mobilised, their goals will be met. However, this has been criticised recently as being an inappropriate figure, since the 3.5% found in the study to be successful was only successful under certain contexts, like under autocratic governments, rather than democratic governments like that of the UK and Australia (Matthews, 2020).
But one thing that is rarely criticised is XR's non-violent approach. According to the same research by Chenoweth and Stephan (2011), non-violent social change is twice as likely to be successful as violent protest movements, with a 70% success rate achieved in the early 2000s. Non-violent campaigns are far easier to get behind, which may explain some of XR's membership success. Their focus on regenerative culture also promotes membership, through prioritising individual wellbeing to achieve a collective wellbeing (Westwell & Bunting, 2020). In this way, XR tries to prevent protestor burnout and promotes physical and mental health, which is essential when dealing with as catastrophic a problem as climate change.
"Within XR there is an explicit attempt to develop a cohesive internal culture, built on an ethics of care, termed 'regenerative culture'. Broadly speaking 'regenerative culture' can be understood as an evolving concept that challenges the 'fundamentally uncaring and destructive' relations of modern western society" – Westwell & Bunting, 2020
The actions of Extinction Rebellion, alongside the rise of Greta Thunberg and the School Strike for Climate have brought climate change to public and media attention. Councils across the world have declared a "climate emergency", with 90% of people living in Britain now living somewhere where a climate emergency has been declared (climateemergencydeclaration.org). By doing so, councils commit themselves to serious action on the issue, both in terms of council buildings and activity, but also through policy making for the wider public. Yet serious problems remain in the push for climate action – though 78% of councils are aiming for net zero carbon emissions by 2050, 47% have no strategy in place to achieve this (Dudman, 2020).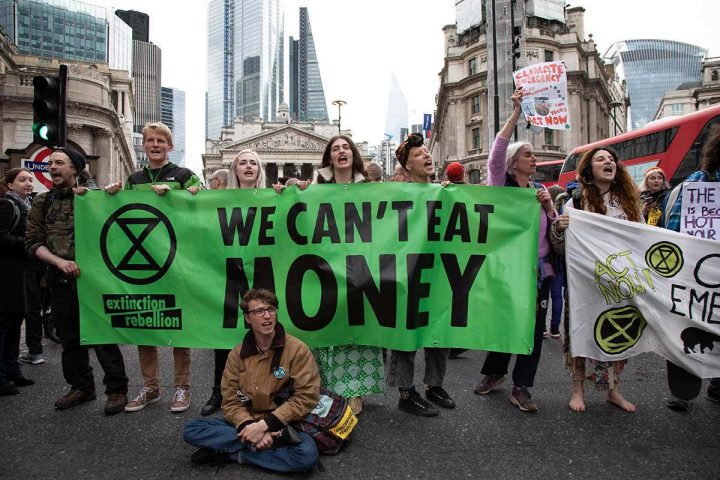 The success of extinction rebellion can only be measured in the tangible actions of the governments and wider society they pressurise. So far, we have more commitments from our leaders to climate action (though not necessarily backed by action), and better awareness of what is at stake. But I remain sceptical that our governments will hit zero net carbon by 2050, let alone by 2025.
References
Dudman, J. (2020) English councils set to miss carbon emissions targets. [online] Available at: https://www.theguardian.com/society/2020/jan/27/english-councils-set-to-miss-carbon-emission-targets (Accessed: 23/10/2020).
Ginanjar, W.R. & Mubarrok, A.Z. (2020) Civil Society and Global Governance: The Indirect Participation of Extinction Rebellion in Global Governance on Climate Change. Journal of Contemporary Governance and Public Policy, 1(1), pp.41-52
Gunningham, N. (2019) Averting climate catastrophe: environmental activism, Extinction Rebellion and coalitions of Influence. King's Law Journal, 30(2), pp.194-202
Matthews, K.R. (2020) Social movements and the (mis) use of research: Extinction Rebellion and the 3.5% rule. Interface: A Journal on Social Movements, 12(1)
Westwell, E. & Bunting, J. (2020) The regenerative culture of Extinction Rebellion: self-care, people care, planet care. Environmental Politics, 29(3), pp.546-551
Read more about…
Overpopulation and overconsumption
…. SURPRISE ME